It's that weird time of year when it's cold in the morning and hot in the afternoon! Constantly switching from heat to AC.  Cardigan on and then off.  It's hard to get comfortable and find a happy medium!  But this spring season is short-lived in Utah, so I couldn't bring myself to jump into Summer quite yet!  Though you can find me day-dreaming about it on this rainy day!  I want to share some cute and comfy blouses that will be perfect for the up-coming months as well as thank you all AGAIN for your sweet comments, likes, page views, and interest in what my family and I are doing.  It's easy to get caught up in loneliness when you are home with the kids all day and 90% of my time is spent taking care of them.  Not blogging obviously because I've been distracted by the sunshine and running toddlers!  But you all make me feel so loved and part of a strong community of past friends and new.  Tribes of moms, strong couples, new parents, entrepeneurs and so much more.  Social media can get ugly fast.  You've all seen the fights and judgement.  The bad news and the bullies.  But, I know you've also seen someone reach out to a complete stranger.  Offer prayers and kind words.  Share in each other's happiness and support one another's dreams!  The good, beautiful people of the world outweigh the bad 100 to 1.  So thank you, thank you for making my corner of the world a little bit brighter!
Let's keep the brightness going as we jump into the season of all things warm, fresh, bright and bold!
*This post contains affiliate links where I may be compensated for purchases made at no extra cost to you*
Cold-Shoulder
If you follow me on Instagram (if you don't you probably should!) then you saw me in a similar top on Cinco de Mayo!  I thought I got a KILLER deal when I found it at TJ Maxx on clearance for only $13.99!  Hello, who can walk away from red markdown tags?!  But then I happened to find this one for ONLY $10 on Amazon Prime!  Free shipping, no wrangling kids at stores, and listening to crying during the commute.  THIS TOP is a total steal and so trendy for any age!  I paired it with some red lips, choker, shorts, and nude heels for a fancy date night!  But could have easily paired it with white jeans and simple flats for a more casual appearance!
Last spring and summer I was attached to a nursing bra and breast pads, so I am JUMPING at the chance to wear what I want without the thought of "Can I nurse in this?" and it is the sweetest taste of fashion freedom!
Also, most men (and all women) can agree that collar bones and shoulders are down right sexy without being trashy!  So show them off a little if you get a chance!  I will leave some similar top options below as well (All under $25!!!)  The embroidery and bell sleeves have me dying!  They look so classic and timeless and they won't break the bank!  That's what this mom's style is all about!
*Click image to shop*
Ruffles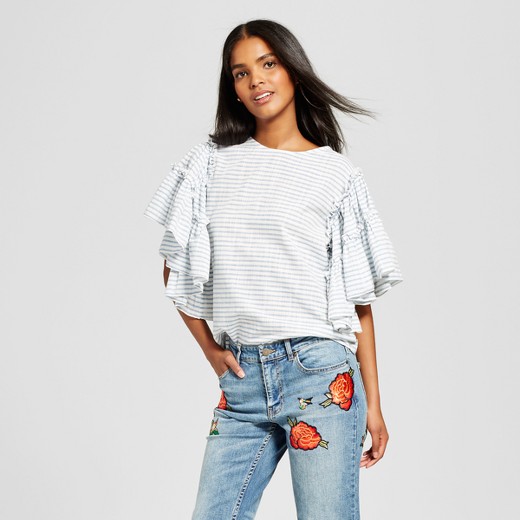 It's no secret I'm in love with Target like all the other Mom's of the world.  But when it comes to clothing, they have upped their game in the past few years!  Like Cat & Jack for kids, their new collab with THE Victoria Beckham, and of course WhoWhatWear.  If you haven't heard of them before I suggest you take a look HERE!  Everything they have is so tasteful and affordable.  They sell great quality, higher end fashion, for a fraction of the cost!  I mean just look at those sleeves!  Someone get me a ticket to Spain because I have found the perfect top for a day strolling the streets!  At only $28 I might be able to save for that plane ticket after all!
Another WhoWhatWear blouse that is available in black as well for only $20!  They really do offer such unique staples for your closet!  You could easily dress it up like this or down with some shorts or sandals.  Wear it to church or to the beach, either way you will have people asking where you got it!
Here are some more ruffled tops!  Printed one is under $20. Tank under $13 and t-shirt under $10! Because life's expensive enough!
Classic Tees
I don't know about you, but I feel like I can never have enough t-shirts to throw on with my colored or denim shorts.  They get worn, faded, dirtied from kids, and in my house worn at least three times a week!  I like to keep things affordable, but it doesn't mean I want a white shirt that is pretty much transparent either!  I know a lot of people shy away from Nordstrom because of the high prices, but I do believe you get what you pay for sometimes.  So I'll steer away from the $8 Target t-shirts (you could 3 for the price of 1 if you don't care about quality!) you can still shop them here, OR jump into higher quality material for not much more!  This basic tee comes in 8 different colors and is still under $20 with free shipping included!  With a brand called "Madewell" and being sold in Nordstrom stores, I can't help but think this tee is worth the extra dollars spent!  Here is an even cheaper option without the pocket!
The pineapple patch and words "Always Be Happy" are giving me all the summer vibes I need to make it through this wind and rain.  Really all I want to be doing is playing in the water and sun with my kids, but blogging is a great second choice! It's under $18 and I bet I'd wear it 100+ times until it was tattered and ruined!  I tend to do that to all my favorite things! Wear, wash, repeat!
Fun Prints
What's more summer than Flamingos??  So cute buttoned over a swimsuit for a day at the beach!  Even more cute that it's under $15!!
It's comfy, pink, and speaking to my cactus loving hippie heart!  I may ditch the husband's t-shirt for this pretty thing!  Especially for only $10!  You can find me creek-side chillin' in my backyard wearing this fun tee ALL.SUMMER.LONG!
I hope you found something that fits your style or are inspired to pull out a piece you already own!  Fashion doesn't have to expensive but it HAS to be fun!  Don't follow anyone's made up "rules" and wear something that makes you feel beautiful and 100% YOU!
I hope you all have a lovely Monday,
From my Nest to yours!